Emaar Greenside

at Dubai Hills Estate
Offers 1, 2, & 3 Bedroom Apartments
At The Green Heart of Dubai
15 Minutes Away From Downtown Dubai
Starting Price: AED 1.4M
Area Ranges From 721 Sq Ft to 1797 Sq Ft
Overview of this beautiful
Property
Greenside Residence is the latest development by Emaar Properties which features one, two and three luxury-bedroom apartments including ground-floor level residential units at Dubai Hills Estate.
Amenities and Features of this
Property
Greenside Residence by Emaar Properties offers numerous amenities and facilities. There are a number of amenities at this expansive golf course side residence, including a luxury lobby with classic contemporary furnishings, a stylish residents' lounge, and an elevated podium with state-of-the-art technology. The development also features an events lawn and BBQ area providing a perfect setting for small social gatherings. In this warm and inviting setting, you can unwind and also take advantage of the spectacular scenery all around you. Greenside Residence also features a children's play area, an infinity pool and a gym. You can also experience park views and the scenic views of the Dubai Hills Golf Course.
Greenside Residence at Dubai Hills Estate is a master-planned development that offers residents a modern luxury living. With the Burj Khalifa and the Dubai skyline as a backdrop, you get to wake up to lush landscaped greens and pristine fairways. Here Greenside Residence provides exceptional experiences for you and your family according to your lifestyle needs and desires. There is a lush green oasis in the heart of Dubai Hills Estate's southern district known as Dubai Hills Park. Embrace a sophisticated address that inspires peak performance. At Dubai Hills Estate, you'll always feel at home.
Location Of
Property
Greenside Residence by Emaar Properties is located in the heart of Dubai Hills Estate. You can be in the heart of the city while still being far from the hustle and bustle of downtown living. Downtown Dubai and other business, retail, and tourism hubs are just minutes away from Dubai Hills Estate via Al Khail Road. It is close to the planned Etihad Rail and Dubai Metro lines, which will make it easier to reach airports and other emirates in the near future. Located near three international schools, a nursery, and a grocery store, this is the perfect neighbourhood for your family to flourish and grow. Additionally, Downtown Dubai and Dubai Marina are just 15 minutes away from the development.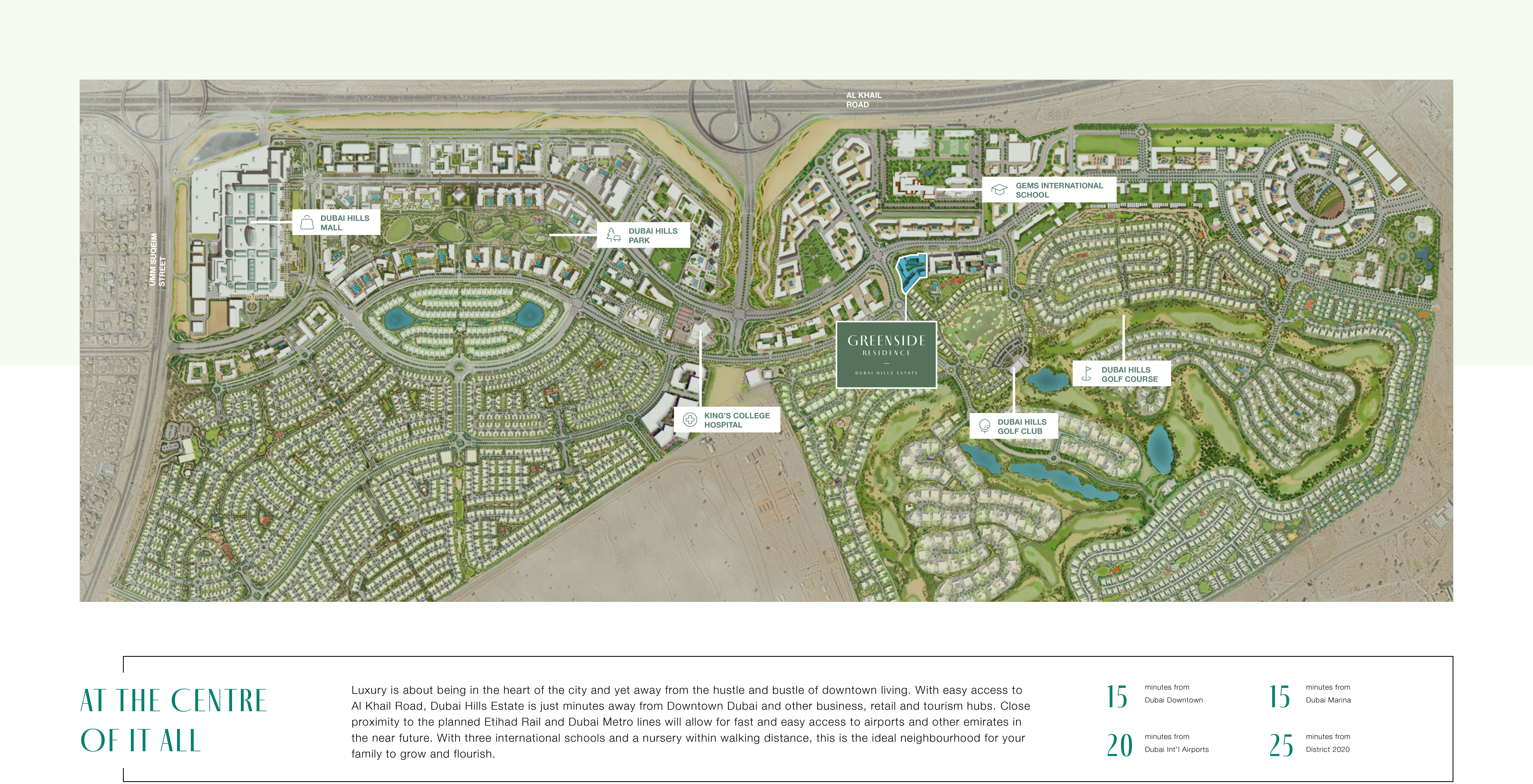 Bedroom of Unit
The bedroom of this development is luxury and you feel very confirmable.
Bathroom of Unit
Every apartment have a modern bathroom with bath tub.
Kitchen of Unit
Each apartment have a modular kitchen.
Living Area of Unit
Living area of each apartment is spacious and have large floor to ceiling window.
Interior

Of the Property

The Greenside Residence ensures a layout that perfectly matches your lifestyle. Here you will discover meticulously designed spaces that provide effortless relaxation. Moreover, Greenside Residence represents modern living with its stylish and remarkably adaptable spatial layouts and optimizing panoramic views seamlessly blended with the surrounding environment. You can enjoy the views of Dubai Hills Golf Course and its surroundings while experiencing modern urban luxury.

Embrace a sophisticated address that inspires peak performance. This is a well-designed home that is tailored to your requirements and offers the perfect place to watch your family grow and create lasting memories.